India-born Sri Srinivasan sworn in as judge of top US court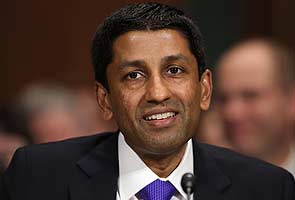 Sri Srinivasan was today sworn in as judge of the second most powerful court of the United States, making him the first Indian American to be on the bench of the US Courts of Appeal for the District of Columbia Circuit.
Chandigarh-born Srinivasan, whose parents migrated to the United States in 1970s, was sworn in the oath of office in an overflowing court room of US Courts of Appeal for the District of Columbia Circuit by Justice Sandra Day O'Connor, in presence of legal luminaries, friends and families.
Gursharan Kaur, the wife of Prime Minister Manmohan Singh, was present on the occasion when Srinivasan took the oath of office on the Gita with his mother Saroja Srinivasan holding the holy book for him.
Gursharan Kaur, literally drove off directly from the airport, with a brief stopover at the hotel, to be in time for the swearing in ceremony of the Indian American.
It was in May this year that 46-year-old Srinivasan was confirmed by the US Senate by a huge 97-0 vote.
He is the first South Asian American to serve as a circuit court judge in American history.
The retired Supreme Court justice Sandra Day O'Connor who administered the oath of office called Srinivasan "fair, faultless and fabulous."
Addressing the gathering, Srinivasan acknowledged the contribution of his parents and family on his achievements.
Srinivasan was first nominated by Obama on June 11, 2012. On January 2, his nomination was returned to the President, due to the sine die adjournment of the Senate.
On January 3, 2013, Obama re-nominated him for the same office.
His appointment is a testimony to his credibility and calibre as a brilliant legal luminary of the US.
Srinivasan was previously the Principal Deputy Solicitor General of the United States.
He is a highly-respected appellate advocate who has spent a distinguished career litigating before the US Supreme Court and the US Courts of Appeals, both on behalf of the United States and in private practice.